When you are collecting money for a gift from multiple sources, it can be tricky and time-consuming.
But don't let the challenge of collecting money deter you. Your recipient–a teacher, coach, club leader, or instructor –deserves to feel appreciated by your group.
Having to collect money for a gift can be a pain. But it's a small price to pay for the amount of love and appreciation your recipient will feel upon receiving your gift.
Plus, there are techniques and resources to make the money collection process easier.
Today's blog provides tips on collecting money for a gift without putting yourself through a ton of stress. You'll also see examples of emails or texts that you can use when organizing your group's contribution.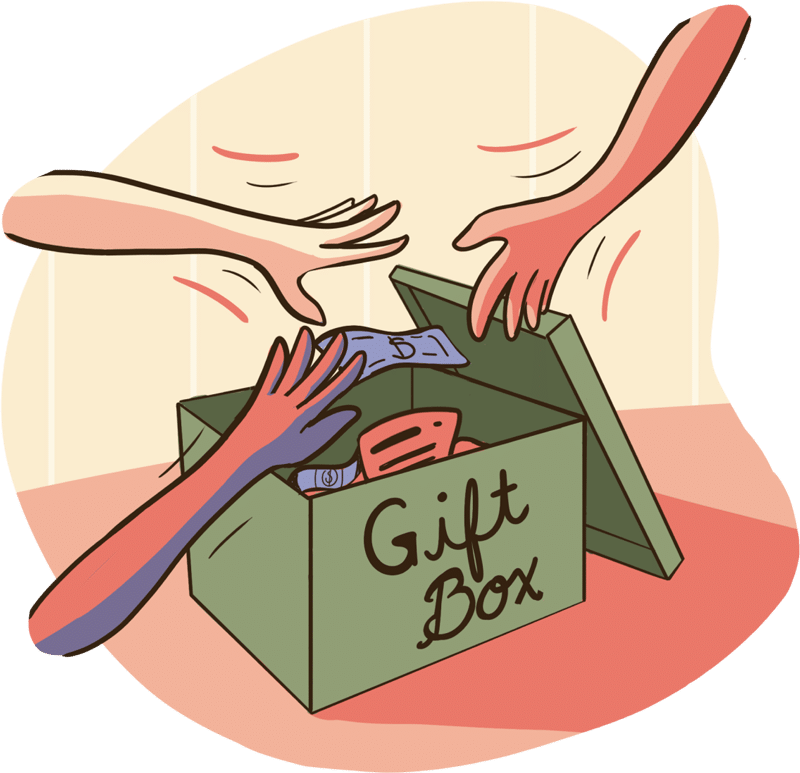 Table of Contents
Collecting Money for a Gift: The Basics
Digital Platforms for Collecting Money
Manual Ways of Collecting Money
Templates for Reminding People to Contribute
Recap of How to Collect Money for a Gift
Collecting Money for a Gift: The Basics
One purpose of collecting money for a group gift? To pool resources from multiple people in order to purchase a more meaningful gift than any one person could afford on their own.
When done correctly, group gifts are so special and truly appreciated by the recipient.
How to Collect Money from a Group
Different strategies can be employed to acquire funds from a group, depending on the requirements and preferences.
There are several digital platforms like PayPal, Venmo, Cash App, Zelle, GoFundMe, and other crowdfunding sites. These make it easy for groups to send payments quickly online without having cash on hand or writing checks manually.
Additionally, manual methods such as cash or check payments sent through mail (or delivered in person) are viable options if needed.
Manual collection is useful especially when dealing with large groups where some members may not have access to or comfort using technology-based payment solutions.
What To Do When Someone Doesn't Contribute
Inevitably someone will forget (or simply choose not) to contribute towards the collective effort. I've been there, and it's a pain to deal with. So have many other parents.
A gentle reminder to the person via email, text message, or social media post can be helpful.
However, if they still don't respond, then it's best just let them off the hook. That's unfortunately part of the group gifting process.
One way to make collecting money easier is by creating email and text templates ahead of time. These can be reminders about upcoming due dates and how much they need to pay.
Reminding participants of their obligations ahead of due dates and the amounts to be paid helps avoid last minute prompting.
Additionally, consider using automated reminders via Gmail's email free email scheduler, the IFTTT app, and The Appreciation Company. These resources help you stay organized and less stressed.
To ensure the process runs as smoothly as possible, clear communication between all stakeholders is essential.
Key Takeaway: Collecting money for a gift doesn't have to be daunting. It can be made easier by setting up payment systems such as PayPal or Cash App, creating templates ahead of time and sending automated reminders. Additionally, communication between all involved parties is key in ensuring the process runs smoothly, making sure everyone knows what's expected of them without having to nag.
Digital Platforms for Collecting Money
PayPal and Venmo are two of the most popular digital platforms for collecting money. PayPal is a secure platform that enables users to transfer, receive and store funds in various currencies quickly.
With PayPal, you can quickly set up an account with your bank or credit card information and start collecting payments from individuals or groups within minutes.
Alternately, Venmo provides an effortless way to send and receive money among groups by simply linking a debit card or bank account.
It's easy to use. Simply link your debit card or bank account information and you're ready to go.
Cash App and Zelle are also great options when it comes to digital platforms for collecting money. Cash App provides an effortless way to send money without any additional charges straight from your phone.
Zelle is a free online banking service offered through participating banks. it allows you to securely transfer funds directly into someone else's bank account almost instantly–perfect for group gifts.
Want More Tips on How to Collect Money for a Gift
Download our Free Guide
Crowdfunding sites such as GoFundMe and Kickstarter have become increasingly popular for their ability to quickly aggregate large sums of money from multiple sources.
Specifically, GoFundMe offers customizable donation pages that make it easy to share the cause with potential donors while keeping track of all contributions made towards the goal amount.
For longer-term projects like launching a business or product development, other crowdfunding platforms may be better suited than GoFundMe.
However, they are still effective when used for one-time donations and individual fundraising campaigns.
Clearly, a range of digital payment systems exist, like Google Pay, Apple Pay, and Amazon Pay (for items bought on the site).
Is time is limited, but your group is particularly tech savvy and comfortable? Consider cryptocurrency services such as Bitcoin allow for speedy transactions without needing physical cash
Collecting money digitally is a great way to quickly and easily organize group gifts. It allows givers to contribute without having to be in the same physical location.
Likewise, manual ways of gathering funds can also be used when organizing a group gift.
Key Takeaway: For those needing to acquire funds for a present, there are numerous digital options accessible such as PayPal and Venmo which provide expedient money transfers. Moreover, crowdfunding sites like GoFundMe provide users with the ability to quickly and easily gather sizable contributions from multiple sources. Finally, services like Google Pay, Apple Pay or Amazon pay can also be used if time is of the essence.
Manual Ways of Collecting Money
Cash or checks in person or by mail is one of the most traditional ways to collect money for a group gift.
This method requires you to ask each individual directly, either face-to-face or through the mail, and can be time consuming.
However, it does offer an element of safety, ease, and personalization that digital payment methods may not provide.
Consider sending periodic notifications via email, text, or announcements during meetings. Inform your group of the total amount gathered and the remaining balance.
You can also create a sign up sheet for people who are interested in contributing cash or check payments.
Employer match programs is another option. They allow you to collect money for a group gift without having to collect funds from individuals directly.
Many employers have matching donation programs where they will match donations made by their employees up to certain amounts.
If your workplace offers such a program, take advantage of it. It's an easy way to double your contributions without any extra effort on your part.
Manual ways of collecting money can be an effective way to gather funds for a group gift. However, they require significant effort and coordination.
Key Takeaway: Collecting money for a group gift can be made easier by taking advantage of employer match programs, utilizing reminder emails and sign up sheets, or hosting inventive fundraisers like raffles or silent auctions. Double your donations without extra effort using the former method and tap into creative ideas to generate more revenue with the latter.
Templates for Reminding People to Contribute
When it comes to organizing a group gift, reminding people to contribute can be the most challenging (and annoying) part.
Gathering contributions for a collective gift can be difficult, but there are techniques and approaches that make it simpler.
Email Templates
Email is one of the best ways to remind people about contributing to a group gift.
When creating an email template, keep it short and sweet. Include all necessary information. This would be recipient's name, the occasion, the suggested amount to contribute, and when they need to submit their money.
Additionally,, provide instructions on how they can submit their contribution (cash/check/online payment). Finally, don't forget to thank them for their help.
Text Message Templates
Text messages are another great way of getting reminders out quickly.
As with email, keep your message brief but include all important details like why you're asking for contributions and the deadline for contributions.
Also let them know where they can find more information if needed. This might be a link that directs to an online donation page or website with additional details about the group gift initiative.
Social Media Post Templates
Social media posts offer yet another way of reaching potential contributors easily and quickly.
Just remember this. Not everyone will see your post, so try using multiple platforms like Twitter, Facebook or Instagram if possible.
Mention all essential information. This includes the recipient, the specific occasion, the suggested donation amount, and the deadline. Be sure to keep the tone lighthearted and fun.
In addition to emails and social media posts, there are other creative ways you could remind people about contributing towards a group gift.
Create flyers with key information posted around town at schools and businesses. Send snail mail letters. Use text messaging services like GroupMe or WhatsApp.
The options really depend on what works best for your situation.
Sample message for email, text, and social media reminders
Hi Parents/Team/Students/Friends/Coworkers,
This is a gentle reminder that if you're going to participate in the gift for Teacher/Coach/Instructor X, please see the contribution instructions below.
Explain or list contribution instructions here.
Ex. We are asking for a $10 donation from each person interested in contributing. We will use the total amount to purchase a Visa gift card for Mr. Jones. You may contribute via Venmo, Paypal, or Zelle. Details for each payment platform is below. If you'd like to donate via another method, please reply to this email and we will coordinat
The deadline to contribute to _ is _ days away.
Thanks!
Key Takeaway: Remind contributors to a group gift with ease by sending out email templates, text messages and social media posts; don't forget about other creative options like flyers or snail mail letters. Spread the word quickly and get people on board with your initiative.
Recap of How to Collect Money for a Gift
Gifting a meaningful present to someone special is an important gesture that should be easy and stress-free.
By using digital platforms or manual ways of collecting money, it's easier than ever to collect money for a gift from your group.
Don't forget to use templates when reminding people in the group about their contribution so you can make sure everyone contributes what they need to.
With these tips, you'll have no trouble organizing the perfect gift for any occasion.
Gather your friends, family and colleagues to give a meaningful group gift with The Appreciation Company.
Our easy-to-use platform makes it simple for you to collect money and create an unforgettable present for someone special.