Setting up a group gift for teachers can be intimidating for parents and PTA members.
Why? Two reasons:
Organizing a group gift is often a stressful task for both the organizer(s) and contributors.
Teachers often receive the same type of gift that, year after year, they no longer want or need.
Parents and PTA members need to take extra care in selecting something unique to show appreciation for all the hard work teachers put in throughout the year.
At the same time, the gift organization process needs to be as simple as possible for the people organizing it–parents, PTAs, and more.
When embarking on the group gifting process, there are three keys you can follow to ensure the gift is heartfelt yet doesn't cause a ton of stress on the givers.
Table of Contents
Benefits of Giving Group Gifts to Teachers
Key #1: Make a Group Gift for Teachers Meaningful
Key #3: Let Teachers Choose Their Gift
How to Brainstorm Ideas for the Perfect Group Gift for Teachers
How The Appreciation Company Works
Benefits of Organizing Teacher Gifts as a Group
Group presents benefit both the givers and the recipients.
Organizing a group gift for teachers is a great way to express gratitude for them and foster the connection between teachers and their students.
Additionally, group gifting, whether during Teacher Appreciation Week or any other occasion or holiday, fosters a schoolwide commitment to celebrating teachers.
For the givers, i.e., parents, PTA officials, or students, a group gift–when organized properly–helps ensure that the responsibility is distributed across the group rather than on a single person.
When giving a group gift, it can be difficult to choose something that everyone will appreciate. But when executed with care and thoughtfulness, a group gift can make an enduring impact on both the teacher and student.
Quick Overview of Teacher Group Gift Ideas
Group gifts should be thoughtful and considerate. Think about what would be most useful in the classroom or home office. Gifts that support teachers' interests outside of school are also great ideas.
Also consider talking to parents and students at other schools to understand what might work best for your teachers.
Group gifts provide an opportunity to strengthen the bond between student and teacher by showing appreciation from multiple sources at once.
This type of gesture speaks volumes. It comes from parents and students who recognize how vital their teacher is in helping them succeed in life.
It is also lovely for teachers to receive recognition from community members. These are people who don't necessarily have children attending that school. However, they still want to express gratitude for all they do daily in educating our youth.
Key #1: Make a Group Gift for Teachers Meaningful
Group presents for educators are a great and often the most streamlined way to demonstrate gratitude for their diligent effort and commitment.
For years, I've been organizing group gifts for my children's teachers, teaching assistants, and heads of school.
In other words, I know exactly what they do and do not want.
First and foremost, teachers want to know that you appreciate their efforts and that they've impacted your child's life. What does this look like?
Personal notes.
Handwritten or digital personal notes from parents and students are what I've found that teachers want the most as gifts.
That's great news!
A personal note costs few to zero dollars. To make personal notes a group gift for teachers, consider organizing a group card writing project.
Ideas for Meaningful Group Gifts for Teachers
Have students, parents, and even community members express in a personal note why they appreciate having this particular teacher in their lives.
Write something specific about how the teacher has impacted you. This could be how the teacher has helped your child, inside classroom jokes, or what your child is most proud of accomplishing in that class.
Along with sending personal notes, choose the most useful gift to them in their classroom or home office. Books, school supplies, classroom supplies, and decorations make great group gifts for teachers.
Your group can also consider a gift that supports the teacher's life outside of school. Find out what teachers genuinely enjoy doing in their free time.
What are their hobbies or favorite restaurants, travel destinations, and stores? Purchase a gift card or physical gift that supports their personal interests to truly impact their lives.
By making group gifts meaningful, parents and PTAs show teachers their hard work and dedication to children are genuinely appreciated.
Key #2: Avoid Typical Gifts
The second key to making a group gift for teachers meaningful and stress-free?
Avoid typical gifts that teachers have received for years.
Typical gifts include mugs, t-shirts, chocolate, and mass-produced gift sets of lotion, soap, and candles, to name a few.
Why don't any of these make a great group gift for teachers? A few reasons:
First, they're repetitive. Teachers have been receiving these types of gifts for years. They have more than enough mugs and candles.

Second, they can be inconvenient for teachers. These gifts are well-meaning. But they could endanger (or just annoy) teachers. They may be dealing with allergies, dietary restrictions, or pets/kids at home who could be harmed. This then puts the onus on the teacher to "rehome" the gift.

Third, they're somewhat thoughtless. These gifts can convey a sense of thoughtlessness. They may indicate that you chose a gift out of convenience rather than one that reflects your appreciation. Again, the best gift you can give a teacher is a personal note.
In summary, gifts such as mugs, tote bags, or gift sets are convenient. But they aren't meaningful or memorable for teachers to receive.
Free Download: Make Organizing a Group Gift for Teachers Easier
Key #3 Let Teachers Chose Their Gift
Giving teachers a choice is the third and final key to organizing a stress-free group gift for teachers.
Here's how giving teachers a choice in their gift might work:
Research popular gifts that other schools have given to their teachers. Draw inspiration for ideas of items your own school could give its educators.

Set up a group fundraising page (or give us a try!). Post the gift options you've selected on the page. Then, involve parents and students. Invite them to contribute to purchasing one item or several smaller items combined into one larger package.

Send teachers access to the page. Once all contributions are submitted, send your teachers access to the fundraising page. Tell them they can pick any of the gifts that add up to the balance that was contributed.
This group gifting method offers multiple benefits
Hassle-free group agreement. Sometimes groups of parents or PTA members can't agree on a single gift. This method removes the stress of reaching a consensus and allows you to offer multiple gifts from which teachers can choose.

Empowerment for teachers. It allows teachers to choose their own gifts, one of the best ways to express appreciation to them.

Guilt-free. It allows for anonymity. You can set up the fundraising page so that no one's name is attached to a contribution. This avoids any shame or guilt that sometimes arises when some parents and students can't or don't want to contribute as much money as others.
How to Brainstorm Ideas for the Perfect Group Gift for Teachers
The most meaningful, least stressful group gifts have a high impact on the recipient and require low effort from the giver.
For years (and years), I've been organizing group gifts for my and my wife's children's teachers and coaches. All group gift ideas fall into specific categories in The Gift Giving Effectiveness Matrix.
What's the sweet spot or the most impactful yet effortless gift to put together?
A digital group gift that allows teachers to choose their own gift and incorporates personal notes of appreciation.
In other words, using The Appreciation Company ensures that your gift will have a high impact on teachers and require low effort from your group.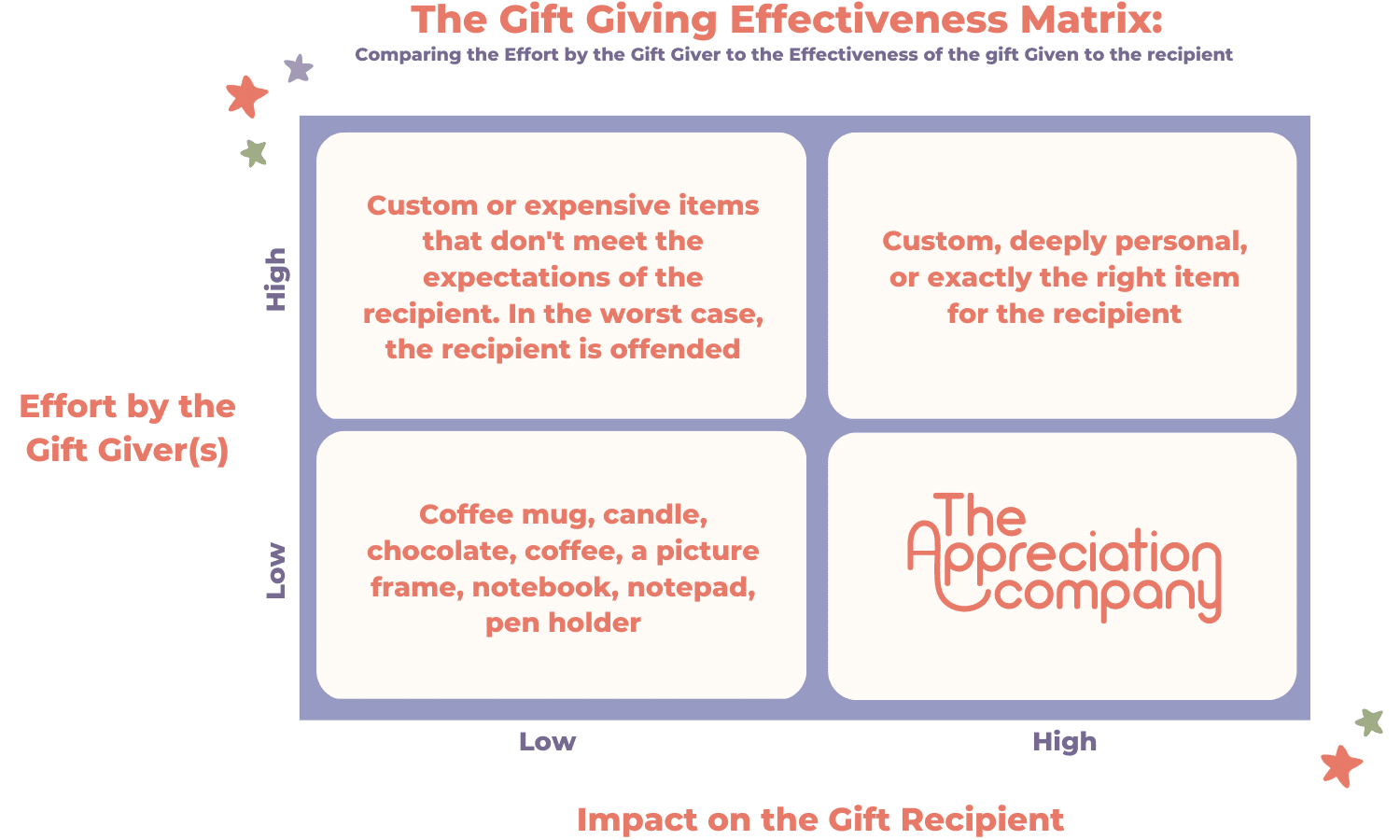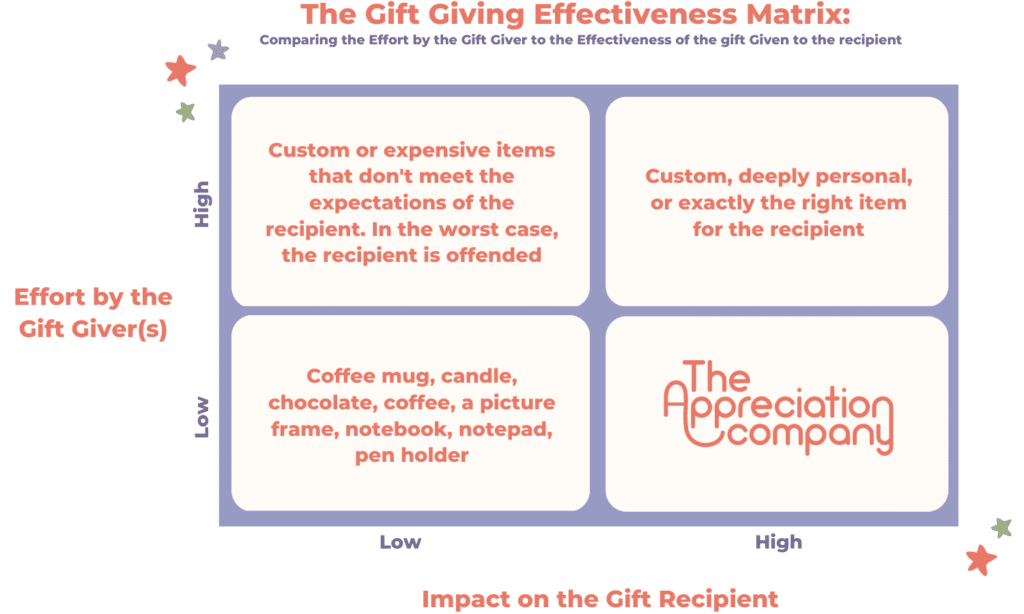 Get a Blank Copy of the Gift Giving Effectiveness Matrix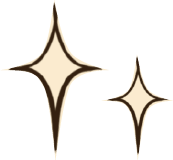 Free Download
Rebekah's structured way of picking the perfect gift
Whether the gift is from you or a group, I've found this is a rational way to arrive at the perfect gift. One that is both effective for the recipient and matches my budget and time. I hope it makes your life easier. By signing up, we'll stay in touch via email.
How The Appreciation Company Works
At The Appreciation Company, we make gift-giving less stressful for busy parents or the givers and more meaningful for teachers, coaches, club leaders, etc., or recipients.
Here's how our process works:
First, at no cost, set up a group gift on our easy-to-use website. You'll assign a specific teacher, teacher's aide, or head of school as the recipient(s). Then, you can invite other parents and community members to contribute.
Second, submit heartfelt messages. You'll be prompted to submit a personalized note (from you and/or your child) and contribute to a gift card balance.
Finally, teachers are notified. They are sent an album of all submitted personalized notes. Additionally, contributions are converted into a balance that the teacher can convert into a gift card from their preferred stores.
We created this process based on the three keys to easy, meaningful group gifting:
First, make it meaningful. Second, avoid typical gifts. Finally, let recipients choose their gift themselves.