When it comes to baseball coach gifts, there are some excellent options and some bad ones.
Knowing what will make a meaningful gift for your child's coach that won't just collect dust in the back of their closet can be challenging.
From mugs and other paraphernalia to personal notes or money so they can get exactly what they want, learn the best and worst baseball coach gifts in today's blog.
These baseball coach gift recommendations are based on my firsthand experience from both perspectives.
I've been a coach for several seasons, and my wife and I have put our children into various sports and activities.
We are well-versed in the gifts and forms of appreciation that really make a difference in a coach's life.
Table of Contents
The Worst Gifts for Baseball Coaches
The Best Gifts for Baseball Coaches
Should You Even Get Your Coach a Gift?
An Easy and Effective Way to Organize Baseball Coach Gifts
The Worst Gifts for Baseball Coaches
Baseball-Related Gifts
Mugs, tumblers, and other baseball paraphernalia are some of the worst gifts for baseball coaches. Why? Because they're…
Generic
Mass-produced
Unable to reflect any thought or appreciation for the coach's efforts
Likely to be quickly forgotten, put in storage, or even thrown away as soon as they're received.
In other words, these types of gifts are just "stuff." And no baseball coach needs more stuff.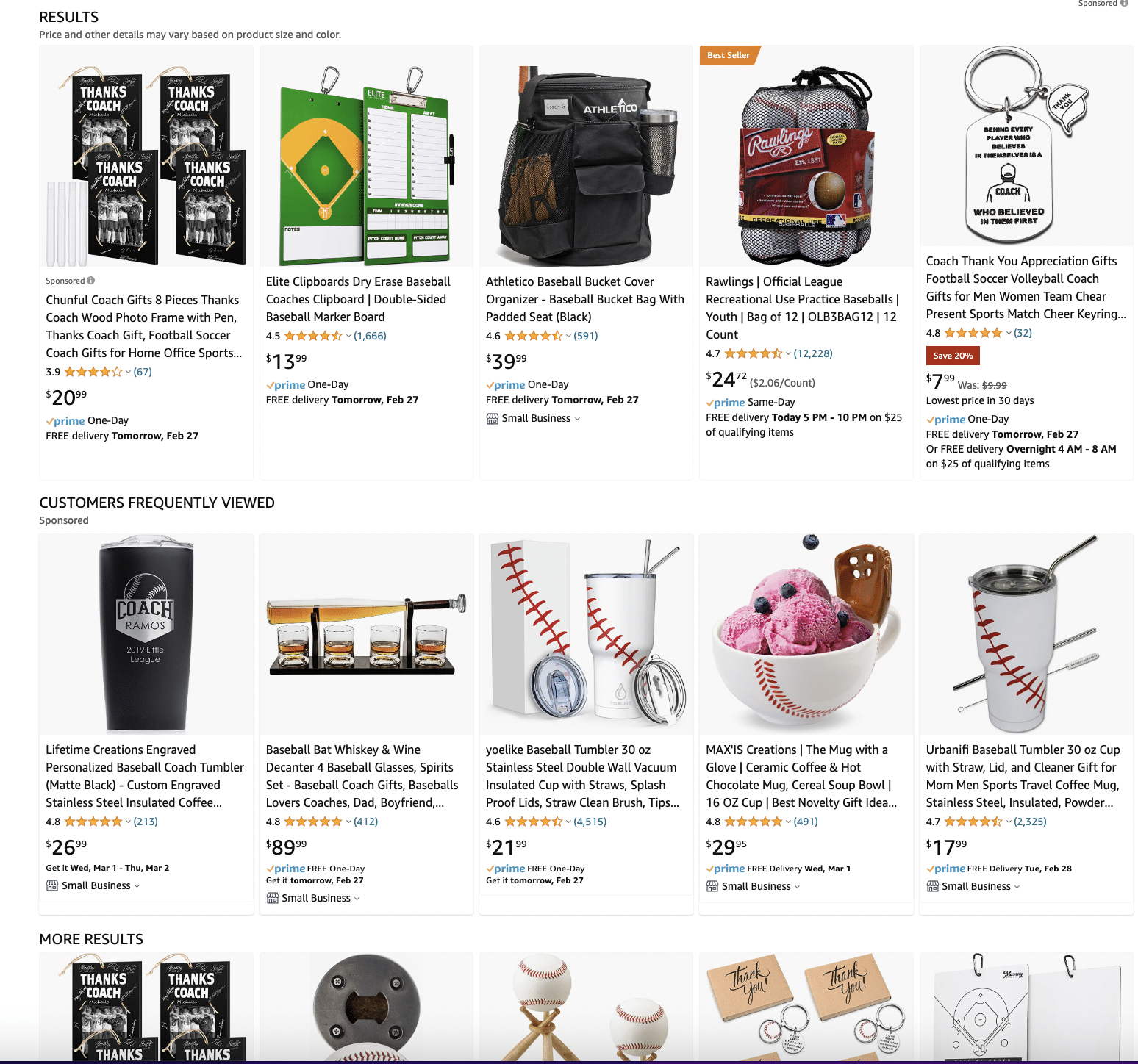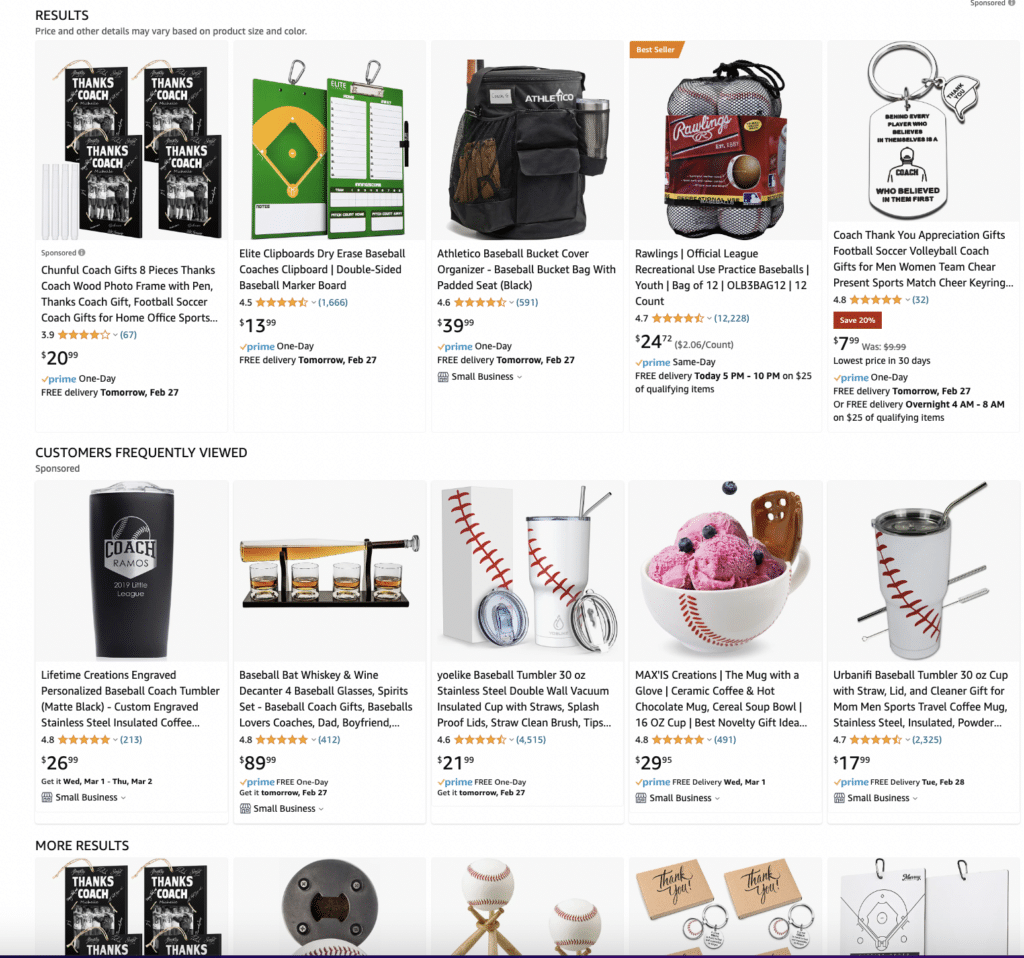 Generic Gift Cards
Generic gift cards can also be a terrible choice when it comes to gifts for baseball coaches.
First, they lack personalization and thoughtfulness. Also, there is no guarantee that the recipients will find something that they actually want with such a generic item.
You may think that a gift card to Amazon, Starbucks, or a restaurant is a meaningful gift.
But what if your coach doesn't do much online shopping, dislikes coffee/tea, or has food allergies that makes eating out near impossible?
That generic gift card that once seemed like a great gift idea can actually be a burden on your coach.
Athletic Gear
For those in the sports biz, athletic gear may seem like a no-brainer present. However, such offerings are not always welcomed with open arms.
Why?
Because coaches typically have their own preferences when it comes to sporting goods. Giving them something you picked out yourself may be a waste of money and time.
Plus, that gear will likely go unused, taking up precious space in the coach's closet.
Anything That Doesn't Reflect How You Feel About Your Coach
Finally, lack of thoughtfulness is one of the most common problems with bad gifts given to baseball coaches.
If you wish your present to be truly impactful, invest extra effort into getting to know your coach.
Try to find the answers to these questions:
What do they do outside of coaching and work?
What are their favorite restaurants, coffee shops, etc.?
Do they like live events, such as concerts or festivals?
Use those answers to guide your gift selection process.
Remember that baseball coaches invest so much of their–often unpaid–time, effort, and emotion into helping your child succeed and have fun.
Gifting your favorite coach with something that you think is a good idea, but doesn't provide actual meaning or value to the recipient can be not only embarrassing, but also inadvertently hurtful.
The Best Gifts for Baseball Coaches
Personal Notes from Kids and Parents
Personal notes of appreciation are one of the most meaningful gifts a coach can receive.
Taking the time to craft an expression of gratitude is a thoughtful way to show appreciation for a coach's hard work.
It doesn't have to be long or overly detailed, but something as simple as "Thank you for all your hard work this season." means a lot.
Baseball players and parents can also about their coach's significance and why they are grateful for them.
You could even go above-and-beyond by having parents write letters expressing thanks for everything your coach does. Then compile all of the notes into a book with pictures from baseball games throughout the season.
Gift Cards or Money to Buy What They Want
Gift cards or money are great options because they allow coaches to get exactly what they want.
A gift card allows coaches flexibility in choosing something that suits their lifestyle.
Alternately, cash is always appreciated when someone wants something specific that may not fit within their budget otherwise.
Again, many coaches do not get paid for their services so any financial contribution is greatly appreciated by those who dedicate themselves to making sure our kids learn valuable life lessons through sports participation.
But remember, before you purchase a gift card, be sure you know your coach's interest.
For example, do you see your coach with a Dunkin Donuts drink often? Do they ever mention a specific restaurant they like? Do have to drive a far distance for practices and games?
With that intel, you can purchase a gift card that will be useful and meaningful to your coach. That might be a gift card to Dunkin Donuts, restaurant, or gas station.
No matter what kind of present you choose, big or small, make sure it comes from the heart because nothing beats genuine thoughtfulness when giving gifts.
Key Takeaway: Show your coach just how much you appreciate all their hard work and dedication with thoughtful gifts. These include personal notes of gratitude, gift cards or money to buy what they want, and acknowledgements of their time and effort. Nothing says "thank you" like a heartfelt gesture.
Free Download: Organizing Baseball Coach Gifts Got a Lot Easier
Free Guide
How to Organize a Group Gift Like a Boss
Hey busy parents! Make life easier with our best tips and tricks for organizing a group gift! Our free guide gives you everything from timelines to templates. By signing up we'll stay in touch via email.
Should You Even Get Your Coach a Gift?
Giving your child's coach a present is a beautiful gesture. Baseball coaches put in countless hours outside of practice.
They organize events, order equipment, plan activities, and motivate and guide the team. Yet they rarely get thanked properly for it, if at all.
Expressing your appreciation for the effort and commitment of your coach through a present is an excellent way to show how much you value them.
Gifts can be as simple as a card or letter expressing gratitude. In fact, in my experience, coaches prefer personal notes to more expensive gifts.
Gifts can also be more elaborate, such as gift cards or cash.
Key Takeaway: Show your baseball coach how much you appreciate them with a heartfelt card or note. Consider inviting them to events outside of practice and games. Offer a token of thanks to your coach to demonstrate how much you value and appreciate their.
An Easy and Effective Way To Organize Baseball Coach Gifts
Let's face it. Organizing group baseball coach gifts is a hassle.
You have to get the group together, gather contact information, agree on a gift, collect money, purchase the gift and deliver it.
Whew. It's a lot.
The Appreciation Company handles all of those tasks for you AND ensures your coaches receive a gift that is truly meaningful for them.
Instead of taking five hours (or more), organizing a group gift now takes five minutes.
Set up a group gift on our website. Assign Coach (and assistant coach) as the recipient(s), and invite other parents/kids/community members/etc. to contribute.

Send Coach a personalized note through our website and contribute to a gift card balance.

Coaches can see all those personalized notes as albums AND convert that balance into gift cards from merchants of their choosing. They choose their gift, which our firsthand experience tells us is what they actually wants.
And guess what?
It's free to organize a gift through The Appreciation Company. You only have to pay the amount you wish to contribute to the coach's gift card balance.
Check out our explainer video below, where I walk you through the setup process.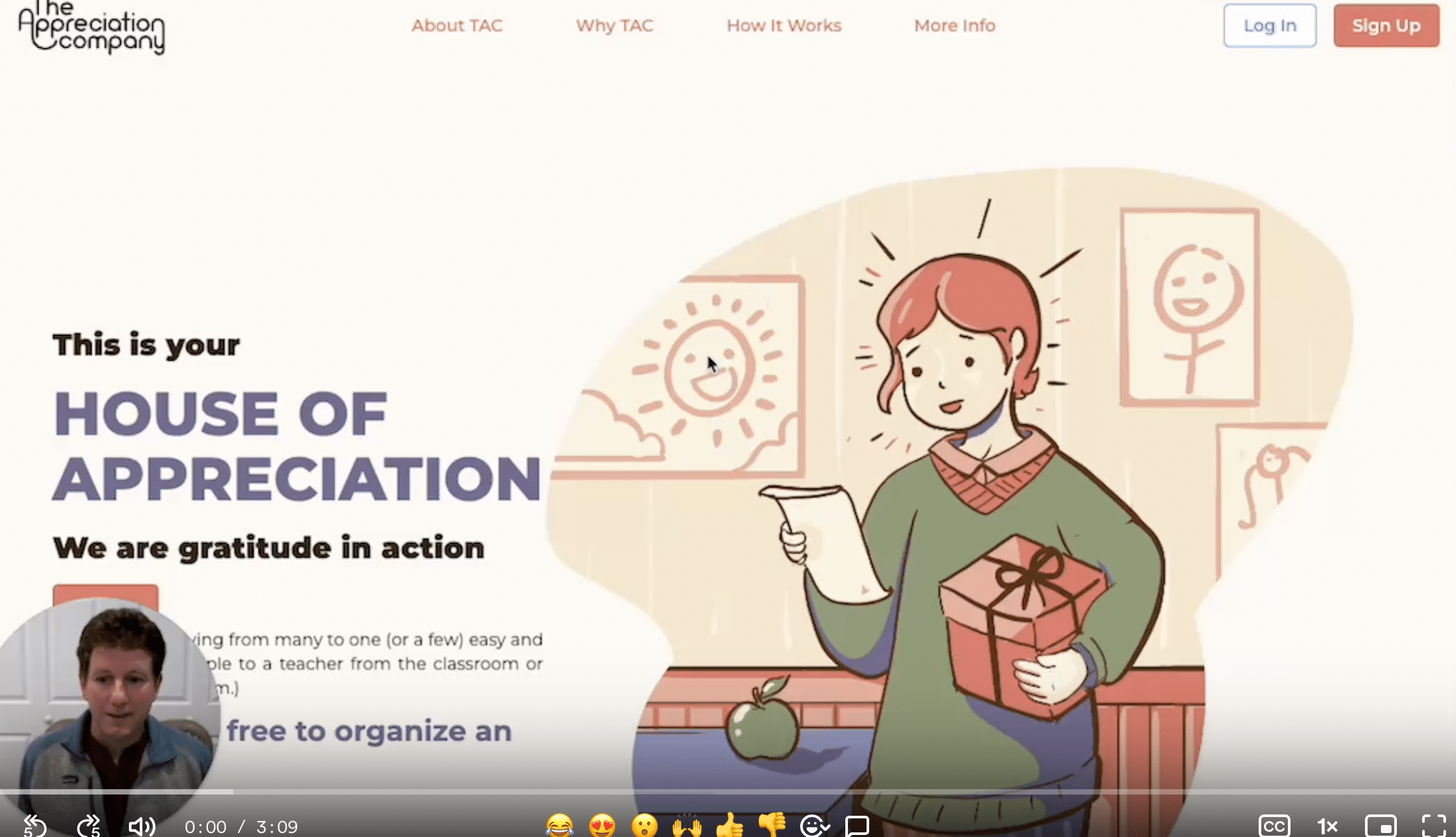 Recap of Baseball Coach Gifts
Gifting to a baseball coach is not about spending the most money. It's about showing your appreciation for their time and effort.
A personalized note from kids or parents, along with something that allows them to get exactly what they want, like a gift card or cash are great ways to show you care.
Baseball coaches will appreciate any thoughtful gifts given in recognition of all the hard work they put into coaching.
Make gift-giving easy and meaningful with The Appreciation Company.
Show your appreciation for coaches, teachers, mentors and more by creating a thoughtful group gift today!