While recovering from the Mac McClung Slam Dunk Contest replays, I was hit with a shock: Gifts for basketball coaches need saving as much as the Dunk Contest did.
It is time to rethink what and how we appreciate our basketball coaches at the end of the season.
Most coaches are volunteers. And if they are paid, it isn't much.
So, what do you say and do for basketball coaches? What gift or form of appreciation will have deep meaning to someone who has dedicated countless hours to your kids?
Today's blog explores some of the most meaningful–and not-so-meaningful gifts for basketball coaches.
Table of Contents
Why Not to Use Amazon for Gifts for Basketball Coaches
Why Buying Gifts for Basketball Coaches is Hard
Don't Buy These Gifts for Basketball Coaches
An Easy and Effective Group Gift Solution
Recap Gifts for Basketball Coaches
Why Not Use Amazon for Gifts for Basketball Coaches?
When shopping for gifts for basketball coaches, the first logical place to search is Amazon.
That makes sense. Amazon is convenient, offers affordable products, and makes purchasing and shipping easy.
But here's the thing.
I did a quick search on Amazon for gift options for basketball coaches. I was profoundly disappointed and frustrated.
All of the options were 100% uninspired.
Mugs, keychains, and other random paraphernalia.
I had the distinct feeling that I did not want to put my name or money behind the gifts offered by Amazon.
Why?
Because these items are meaningless. These gifts are just "stuff."
Does your coach, a person steeped in basketball culture, need more coach stuff?
When you search for coach gifts on Amazon, do you get a similar feeling? A feeling of cringe, embarrassment, and/or disappointment?
It's time for a serious change to the gifts we buy for our kids' coaches.
They deserve a gift or token of appreciation that's actually meaningful and useful to them.
Why Buying Gifts for Basketball Coaches is Hard
It's challenging to select good gifts for basketball coaches.
Why? Because in order to identify a good gift, you have to know the person well. Really well.
Many parents don't know their children's coaches well enough to know what gift will be meaningful to them.
Furthermore, many parents don't know each other well enough to collaborate on choosing a meaningful gift.
It makes sense, then, that you might be at a loss as to what to do when purchasing a gift for your kid's basketball coach.
If you don't know the coach well, how are you supposed to know what type of gift will make an impact on them?
Don't Buy These Gifts for Basketball Coaches
Let's illustrate the challenge of purchasing gifts for basketball coaches when you don't really know them.
Below is a list of gifts that Amazon recommends for coaches–and why they're not as meaningful as you might think:
Home decor. Have you ever visited the coach's home or office if they have one? How do you know what type or size of decor will or won't work?
A picture or desk art with the player's names. I've coached for several years for two seasons a year. I'm running out of desk and wall space for gifts like these. Or, do I take down last year's team photo or put the new one beside the prior year's photos? Your coach will have similar challenges.
Coffee mug or insulated cup. How many of these do you think your coach has, needs, or wants? If your cupboard is overloaded with mugs and tumblers, there's a good chance your coach might have the same issue.
Clipboard or basketball court layout dry-erase board. If coaches felt a need for this, they likely already have it. Or, they just write the layout on paper with an ordinary pen. Why? Because dry erase markers get lost or dried up easily.
Whistles or key chains with a lovely saying: While well-meaning, these aren't terribly useful for attractive or basketball coaches. Also, chances are they don't fit well with the coach's style, so they may not want to carry it around with them all day.
Basketball shirts, blankets, or towels. These items are a maybe at best. They can be useful as old items wear out. But again, as your coach is already steeped in basketball, they already have a lot of these themed items.
Autographed basketball. Again, while well-meaning, this gift doesn't offer a lot of use or value to the coach. If the team won the state championship of something major, that's a different story and this could make an impactful gift. If not, put that time and money towards something else.
Gifts for Basketball Coaches Rule of Thumb
If you're shopping for gifts for basketball coaches, use this rule of thumb.
Imagine what your coach will do your gift an hour or so after the last game or awards ceremony.
Will the gift stay on their desk collecting dust and taking up space? Will it be reluctantly thrown out because it doesn't provide a ton of use?
If the fate of your gift isn't a positive one, don't spend your time or money on it.
To recap, this includes basketball-related home decor, personalized mugs and t-shirts, and just about anything that is described as "clever," "unique," and "basketball-related" on Amazon.
Free Download: Make Selecting Gifts for Basketball Coaches Easier
Free Guide
How to Organize a Group Gift Like a Boss
Hey busy parents! Make life easier with our best tips and tricks for organizing a group gift! Our free guide gives you everything from timelines to templates. By signing up we'll stay in touch via email.
What Basketball Coaches Really Want
The only gift for basketball coaches that really matters is to say, "Thank You. We Appreciate You".
This gift is even more powerful if the entire team expresses their thanks and appreciation.
Why?
Because the only thing coaches h cares about is to know that they made a difference for the kids.
That the time they spent made an impact, and there was a purpose to the hours spent on the court during games and at practices.
Saying, "We Appreciate You" from the team creates a lot of impact:
Focused on what the recipient wants and needs: to feel appreciated.
Personalized. Every note from a parent and/or child is unique and tells a story about how the coach impacted their life specifically.
Deep, emotional resonance. Coaches will know that there was a purpose to their time.
Zero clutter. Physical space is a premium, especially if your coach has been around a few seasons.
Zero risk of being inappropriate. A heartfelt thank-you note is always well received 100% of the time.
An Easy and Effective Way To Organize Gifts for Basketball Coaches
At The Appreciation Company, we remove the stress of group gift-giving for both gift organizers and contributors.
Here's how we work:
Set up a group gift on our website. Assign Coach (and assistant coach) as the recipient(s), and invite other parents/kids/community members/etc. to contribute.

Send Coach a personalized note through our website and contribute to a gift card balance.

Coaches can see all those personalized notes as albums AND convert that balance into gift cards from merchants of their choosing. They choose their gift, which our firsthand experience tells us is what they actually wants.
One of the best parts?
There is no cost to organize a group gift through us. We make it extremely easy (and free) for you to set up a gift, get other people to contribute to it, and send to your recipient.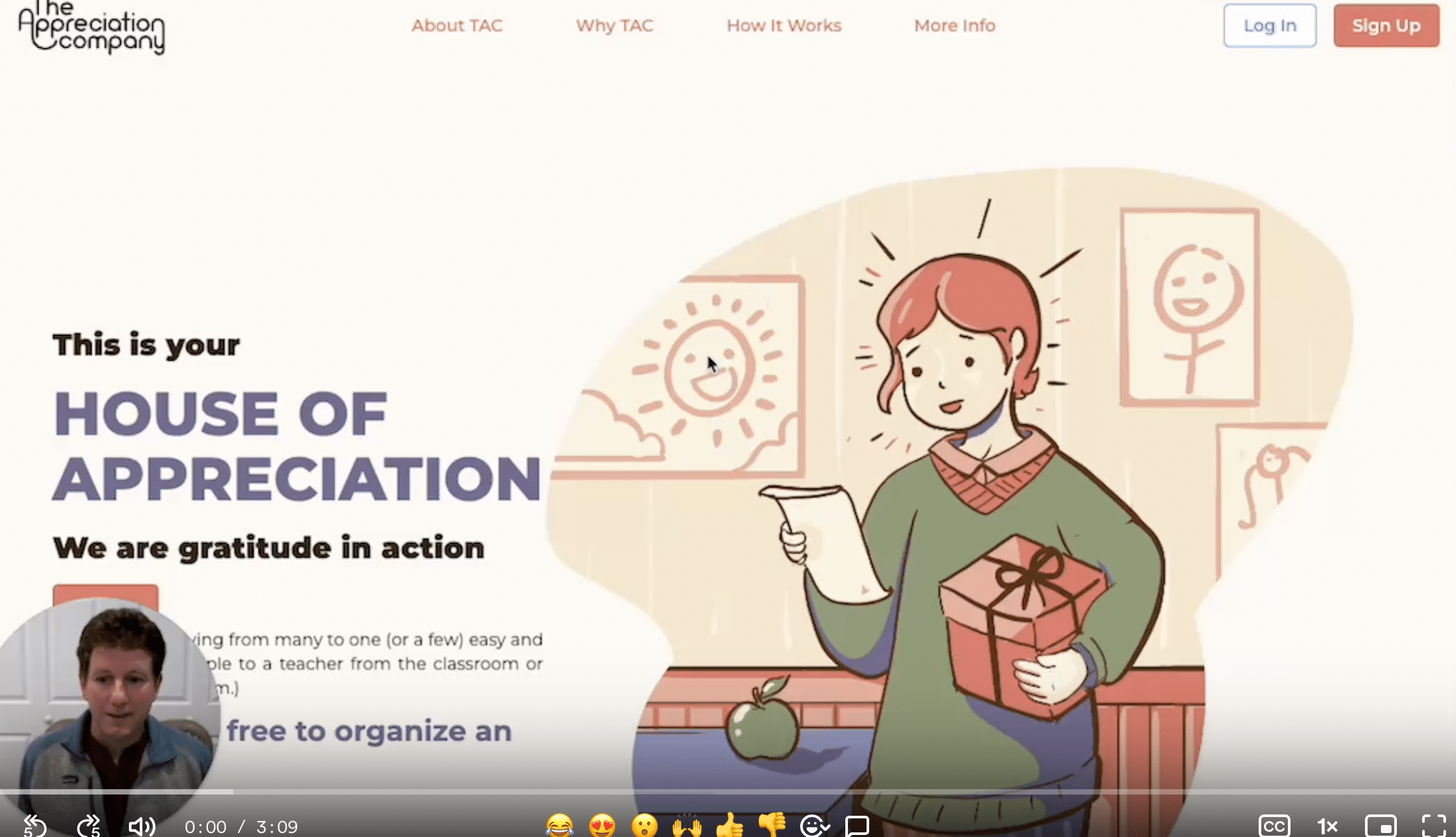 Recap of Gifts for Basketball Coaches
Regarding gifts for basketball coaches, coaches only want to feel appreciated for all the time and effort they offered your children during the season.
Using The Appreciation Company provides a simple, hassle-free way for you and the rest of your team to submit heartfelt notes that truly make an impact on your coach.